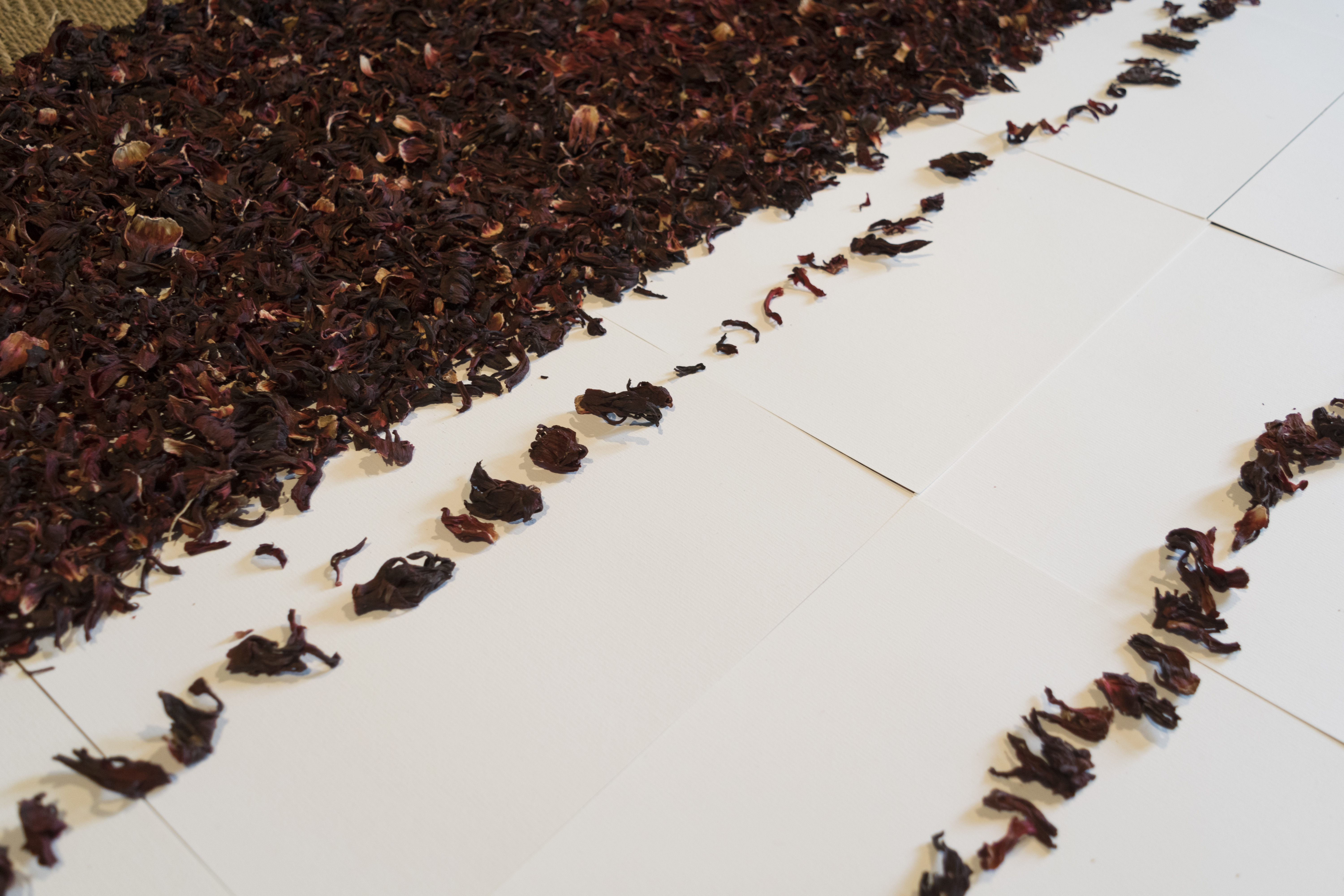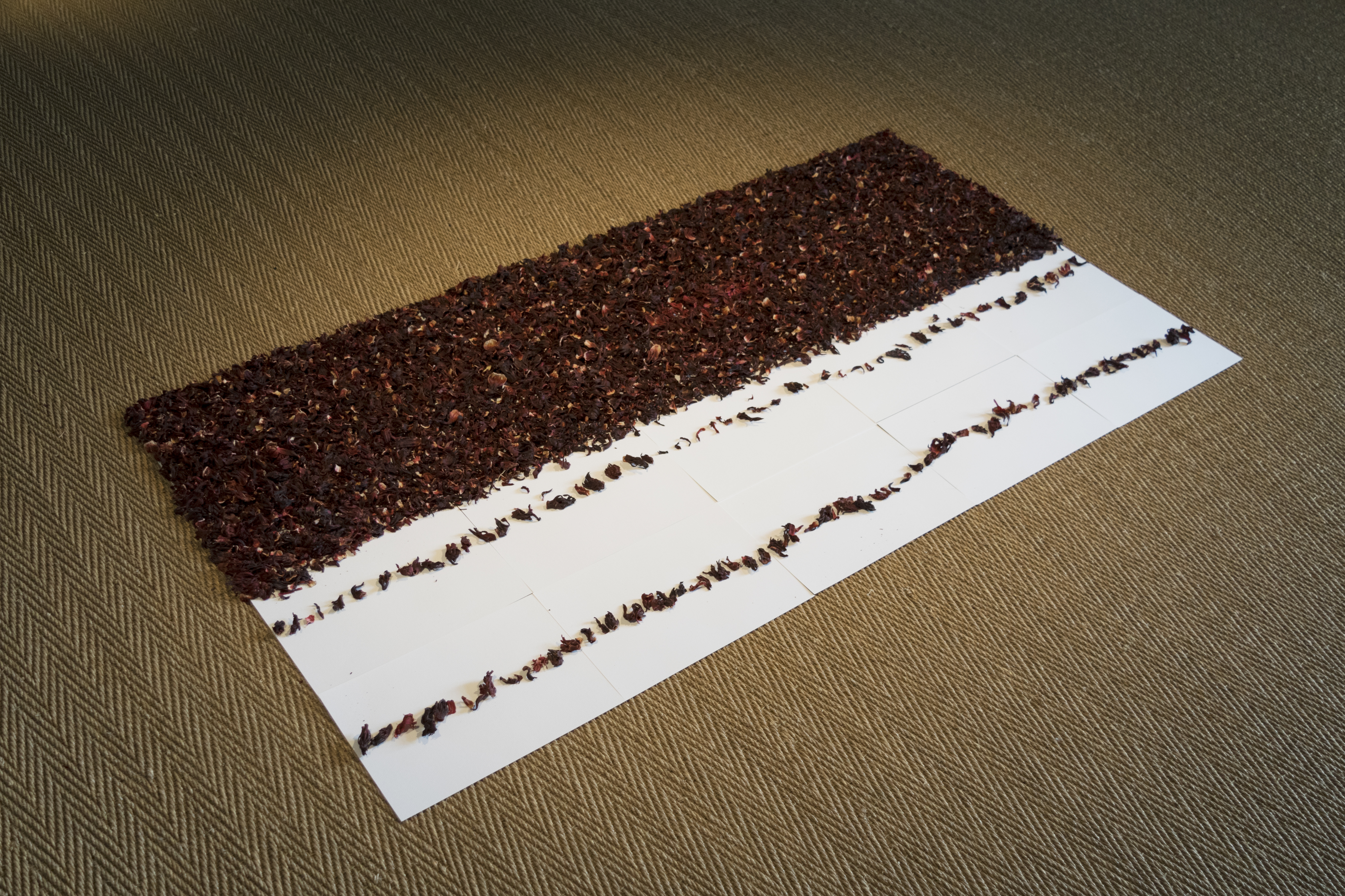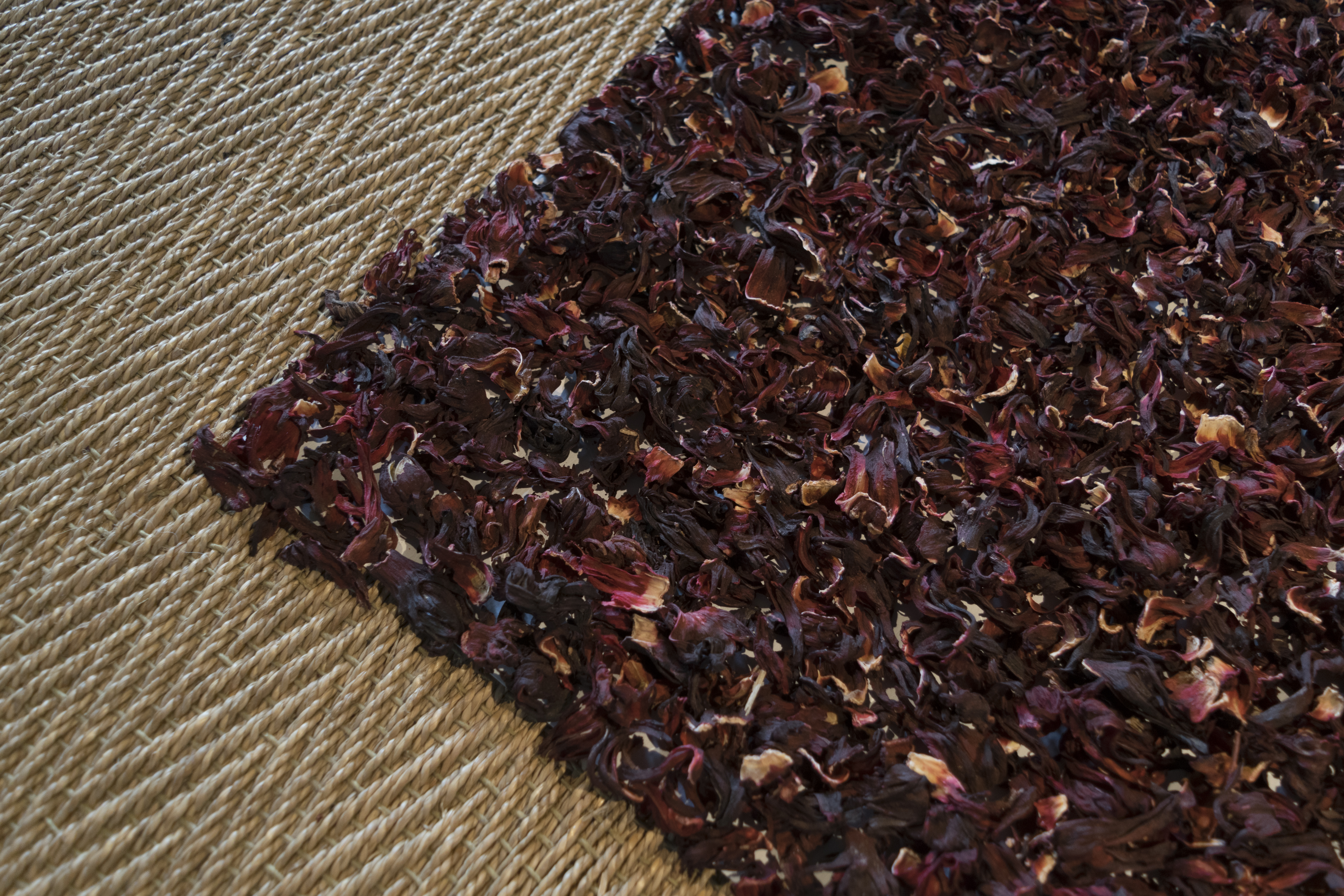 This piece was realised during the residency at the Manor of Soisay, France, in August 2021.

Cette oeuvre a été réalisé dans le cadre de la résidence d'Août 2021 au Manoir de Soisay, France.
EN. On more than 3000 flowers (dry hibiscus flowers, paper)
Through successive and repetitive gestures, the hibiscus body of work ritualizes anger, to better understand and transform it. These pieces are situated in slowness, resilience and notions of effort. They aim to deconstruct a vision of anger that could be perceived as loud or violent, instead suggesting a vision of anger that could be veiled, dull or cold.
The hibiscus flower operates as a mantra, charged with female experience and/or a feminist message. As a symbol of femininity, we recommend drinking the infusion to relieve the body from menstrual pain.
On more than 3000 flowers displays hibiscus flowers fixed one by one, gradually taking the shape of a perfumed rug. The relentless repetitive gestures morph into a ritual, where hibiscus flowers become an accumulation of disruptive elements that have been kept silently choked.
FR. Sur plus de 3000 fleurs (fleurs d'hibiscus séchées, papier)
Par le biais de gestes successifs répétitifs, les oeuvres à la fleur d'hibiscus sont comme des moyens ici de ritualiser la colère, la comprendre, et mieux la transformer. Ces oeuvres veulent s'inscrire dans la lenteur, la résilience, et l'effort. Elles viennent également déconstruire une vision de la colère qui serait perçue comme exacerbée ou ouvertement violente, lorsqu'elle peut être aussi sourde ou froide.
La fleur d'hibiscus intervient comme un leitmotiv, portant symboliquement une experience de femme, ou/et un message féministe. Symbole de féminité, on conseille de la boire en infusion pour apaiser les douleurs menstruelles.
On more than 3000 flowers (Sur plus de 3000 fleurs) révèle des fleurs d'hibiscus déposées une par une, prenant graduellement la forme d'un tapis odorant. A la manière d'un rituel, et par la répétition inlassable et silencieuse de même gestes, les hibiscus deviennent comme une accumulation d'éléments perturbateurs gardés étouffés, sans être exprimés publiquement.