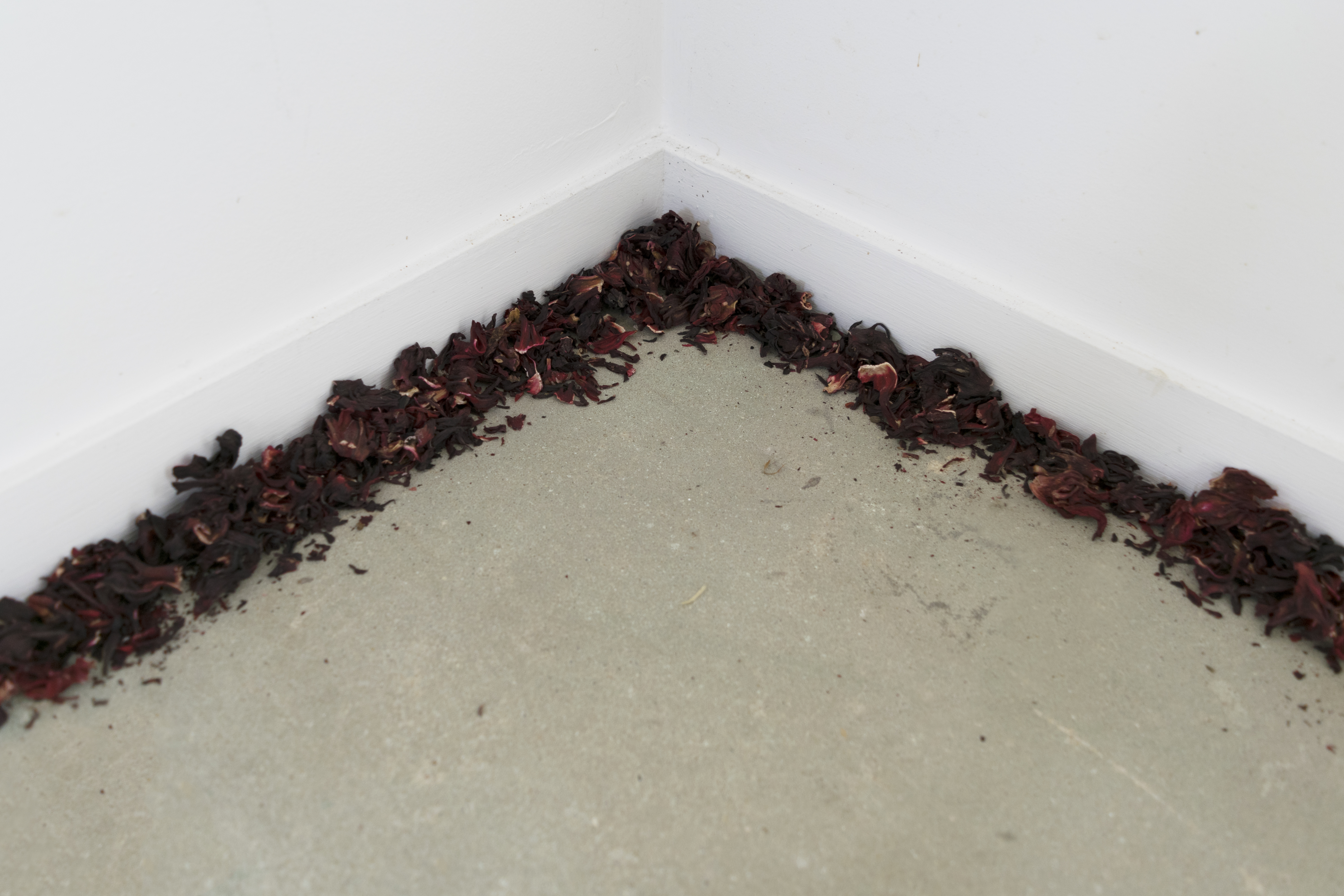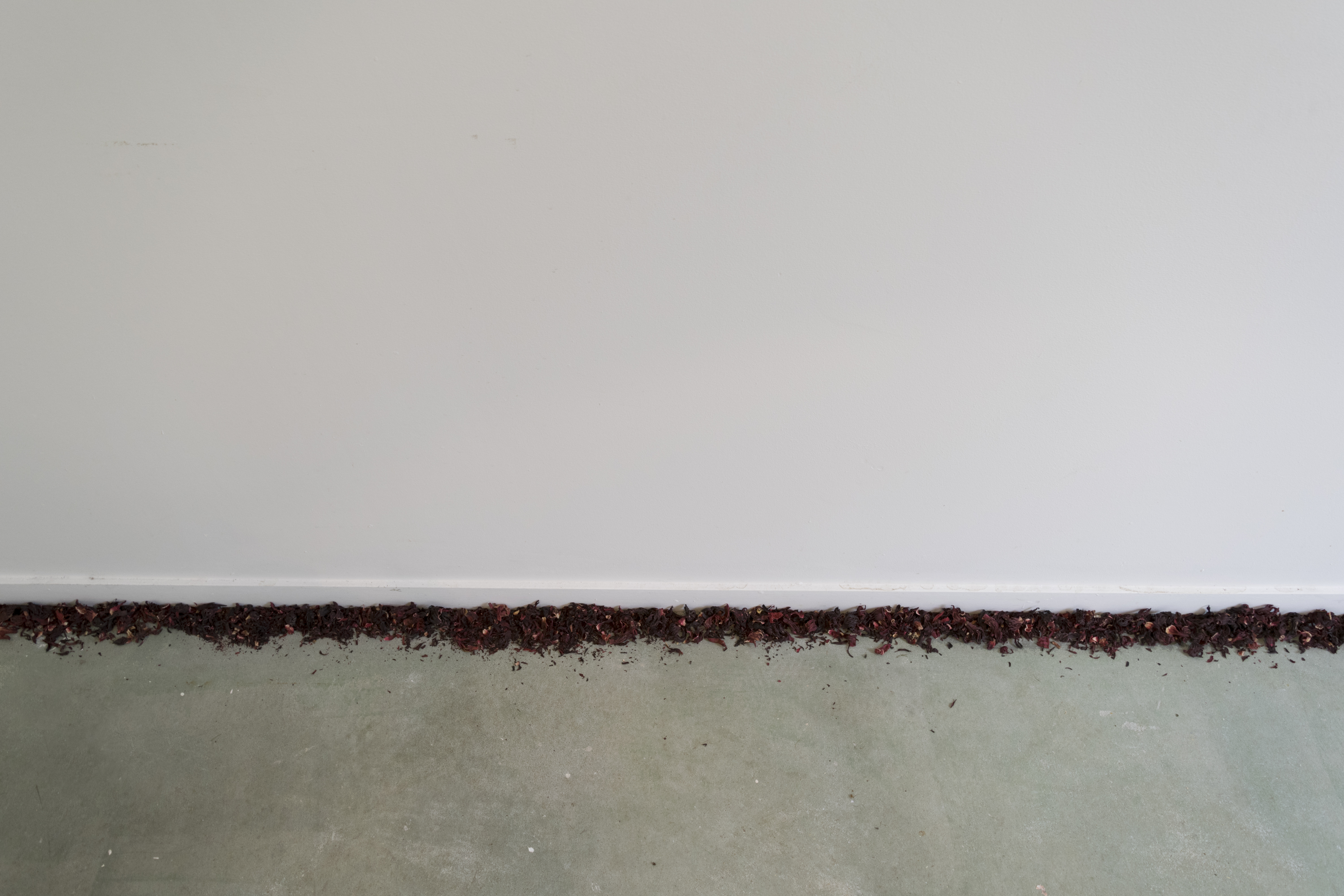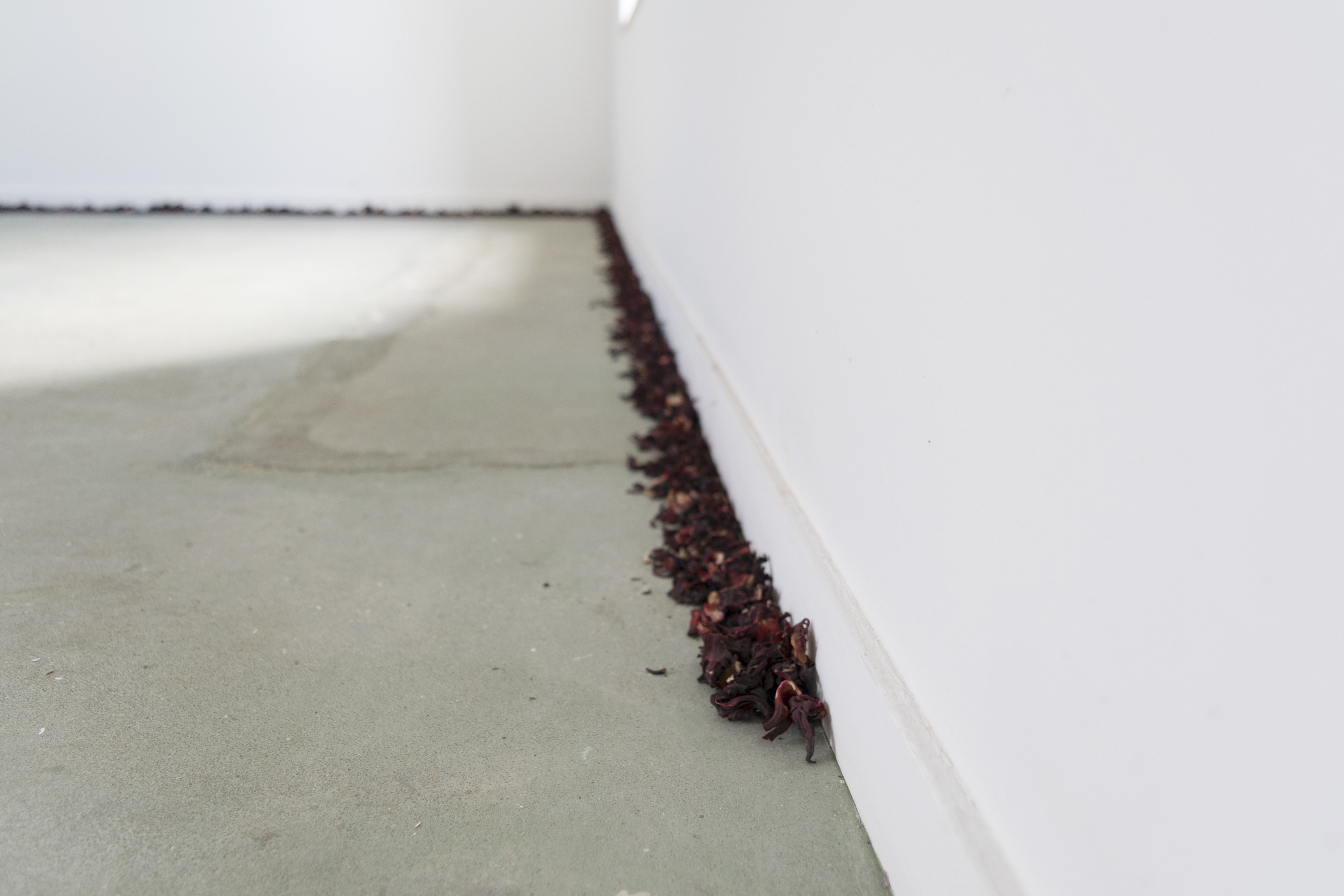 This piece has realized during the residency at the Manor of Soisay, France, in August 2021.

Cette oeuvre a été réalisé dans le cadre de la résidence d'Août 2021 au Manoir de Soisay, France.
EN. Our sea of fire (dry hibiscus flowers)
Through successive and repetitive gestures, the hibiscus body of work ritualizes anger, to better understand and transform it. These pieces are situated in slowness, resilience and notions of effort. They aim to deconstruct a vision of anger that could be perceived as loud or violent, instead suggesting a vision of anger that could be veiled, dull or cold.
The hibiscus flower operates as a mantra, charged with female experience and/or a feminist message. As a symbol of femininity, we recommend drinking the infusion to relieve the body from menstrual pain.
Our sea of fire plays around anger that is experienced and anger that is publicly expressed. It underlines the gap between the interior and exterior aspects of anger. Hibiscus flowers disturb the space, eating the edges of the floor and the walls, as insects gradually team in silence.
FR. Notre mer de feu (fleurs d'hibiscus séchées)
Par le biais de gestes successifs répétitifs, les oeuvres à la fleur d'hibiscus sont comme des moyens ici de ritualiser la colère, la comprendre, et mieux la transformer. Ces oeuvres veulent s'inscrire dans la lenteur, la résilience, et l'effort. Elles viennent également déconstruire une vision de la colère qui serait perçue comme exacerbée ou ouvertement violente, lorsqu'elle peut être aussi sourde ou froide.
La fleur d'hibiscus intervient comme un leitmotiv, portant symboliquement une experience de femme, ou/et un message féministe. Symbole de féminité, on conseille de la boire en infusion pour apaiser les douleurs menstruelles.
Notre mer de feu joue entre la colère ressentie et vécue, et celle qui est publiquement exprimée. Elle souligne l'écart entre l'experience intérieure et extérieure de la colère. Les fleurs d'hibiscus viennent peu à peu lécher les murs et les contours du sol, comme des insectes qui fourmillent lentement en silence.